2021 Calendar of Events
Please check our calendar of events for dates we are open, league dates, and special events.
We are open most Sundays starting early this year on Sunday, January 10th for Sporting Clays, Trap & Skeet.
---
Summer Trap League
-Tuesday nights starting at 6:30 pm
-5 person teams
-Sign-up and practice: May 4th
-League begins: May 11th
Sporting Clays, Trap & Skeet
-Sundays starting at 9:30 am, last squad out at 3:00 pm
Special Shoots
Bud Cook Shoot
-Saturday, June 19th
-100 target sporting clay event
-Lewis Class, fun shoots, steak dinner served all day, and awards at 5 p.m.
20th Annual MGC Fishing Tournament
-Saturday, June 26th
-Weigh in at 1:30 p.m.
-Fish fry, raffles, and prizes to follow.
8th Annual Tractor Pull & Sporting Clay Shoot
Guns, Smoke, & Beer
-Sunday, July 18th
-Free Admission, bring your own chair
-Food and beverages available all day, NO CARRY-INS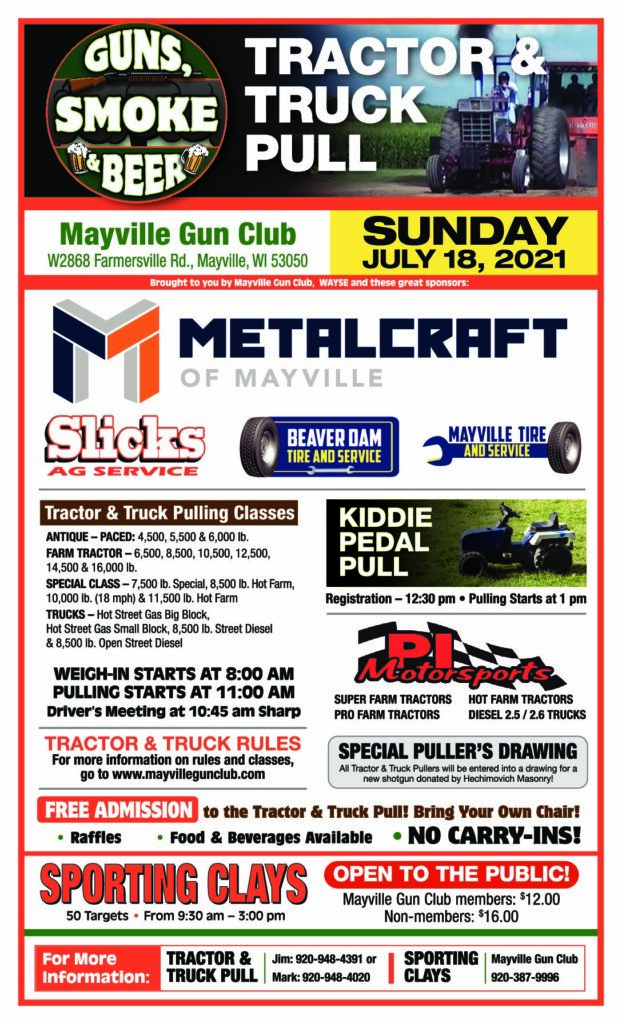 18th Annual MGC Fundraiser Banquet
-Thursday, October 7th
-Gun boards, raffles, and a great dinner
-Doors open at 5:30 p.m. and the dinner is at 7:00 p.m.
11th Annual Santa's Shoot for Sharing
-Saturday, December 4th
-Sporting Clays, trap shooting, raffles, and lunch
-Proceeds from this shoot go to support local charities and organizations.